How to be an energy trader from your living room

Ever thought about energy trading? Or what it is?
We all need energy, it's also pretty essential to the operation of modern Australian society.
Most electricity in Australia is generated, bought, sold and transported in markets that need to match supply and demand in real time. It's absolutely crucial that sufficient electricity generation is always available to meet demand. For example, whenever you switch on a light or turn on the TV, you expect there to be enough power available for it to work immediately.
What happens when demand exceeds supply or back up generators fail? Basically, blackouts happen.
Now thanks to Reposit Power you can play an important role in preventing blackouts and provide much needed stability for our electricity grid.
But first, what is the National Electricity Market?
The NEM is where the wholesale power exchange between electricity producers and consumers takes place.
The Australian energy market is highly complex but sophisticated. It is home to one of the largest geographically interconnected power systems in the world, the National Electricity Market (NEM).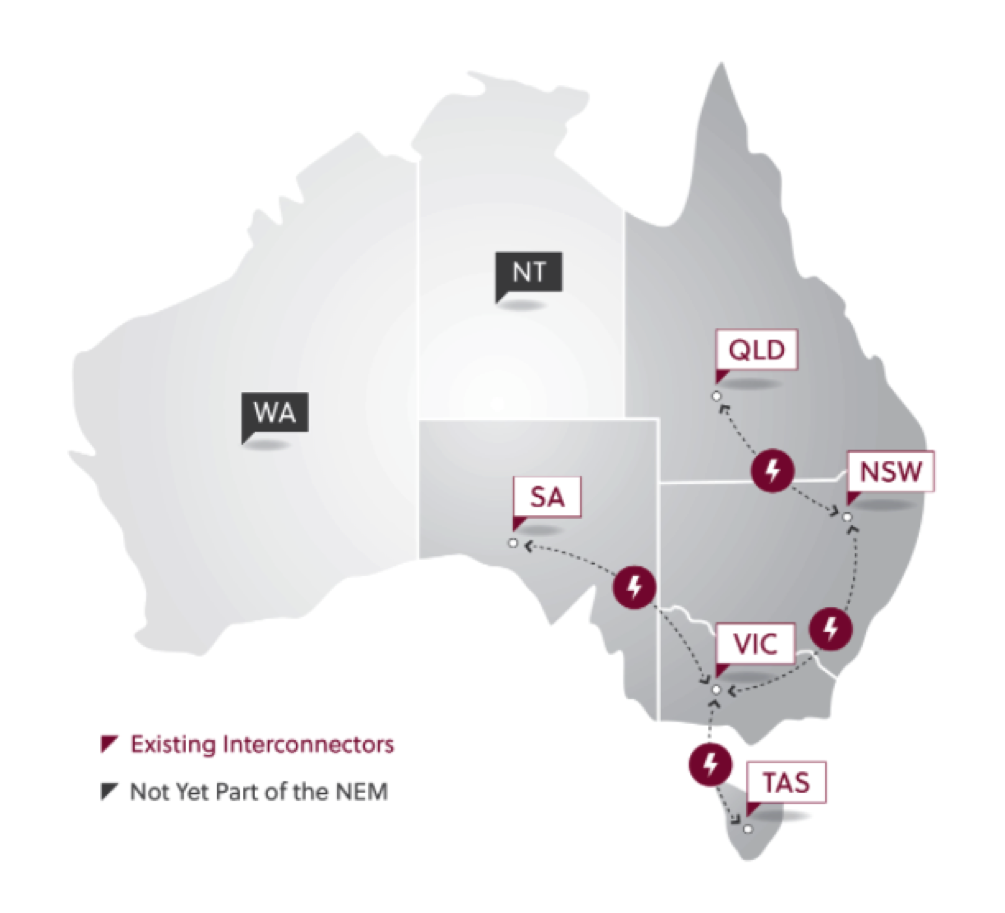 *(Western Australia, Tasmania and the Northern Territory are excluded from the network,they operate independently.)
The NEM is responsible for around 80 per cent of Australia's electricity* consumption.
Fun fact: The total value of electricity traded in the NEM in 2014-2015 was $8.2 billion.
Reposit would like to invite you to trade on the NEM
There are live auctions every five minutes! The NEM operates as a gross pool market, where all electricity delivered to the market is traded 24-hours a day, seven days a week. Unique to us, GridCredits are your opportunity to trade on the NEM! Through our smart app, Reposit gives you access to the NEM** and to interact with it with GridCredits.
What are GridCredits®? Put simply, it's money off your power bill. Earn GridCredits, get a cheaper power bill.
To meet the demand of the population's growing energy requirements, especially throughout summer, Reposit customers can opt to chip in their spare stored solar energy in return for $1.00 of GridCredits® for each kWh released back to the grid (on selected retail plans).
Choose to sell the stored energy in your solar battery for an extraordinary price to selected electricity companies when our electricity grid needs help, or when wholesale electricity prices spike. Reposit empowers you with choice and flexibility, outsmart the electricity companies, full control is yours.
How GridCredits® Work
When you sell your energy you're preventing blackouts and helping maintain a secure, reliable, stable and sustainable grid.
Selected electricity companies will buy your stored energy. The number of GridCredits® you can earn depends on the electricity plan you choose and your location. Here's how it works:
Electricity companies need to meet electricity demand during times of peak energy usage, like those hot summer days when everyone is cranking up the air conditioner

Reposit will automatically sell your stored energy for an extraordinary price when it's needed most earning you GridCredits

®

GridCredits

®

reduce your electricity bill over and above your normal solar feed-in-tariff

You must have an electricity plan with one of our partner electricity companies to earn GridCredits

®
How can you participate?
Reposit is the tool that allows homeowners to become a part of a community big battery and interact with the electricity market. We've developed software that allows you as a homeowner to sell your stored energy to electricity companies at better prices, but companies still choose what they pay.
Any household that has a solar battery setup that includes a Reposit-compatible solar battery can get involved with this big battery concept. Once a household is connected with a Reposit product, the next step is getting signed up to receive GridCredits®.
Get in touch with one of our awesome consultants today and learn more about GridCredits.
**The Australian Energy Market Operator (AEMO) manages trading in the NEM, according to trading rules governed by the National Electricity Rules.