Guaranteed $0
Electricity Bills
Install Reposit's solar and battery
system and you'll get free access to our
No Bill Power Plan for 5 years minimum.
Reposit No Bill Solar System & Plan
Reposit will design, supply, and install a Reposit-controlled solar with battery system that is right for your home. Then Reposit will take responsibility for your electricity bill - including all fees, charges and taxes - in full and on time for 5+ years guaranteed.
Not having an electricity bill means you can choose how and when you use your heating, air-conditioner, clothes dryer and other appliances. Live comfortably and let Reposit worry about keeping the cost and carbon down.
Reposit is On Thousands of Homes
Throughout Australia
You may have seen our
solar panels in Melbourne,
throughout residential pockets of Sydney, or across rooftops in Canberra. We currently serve all of Victoria and the ACT, as well as the Greater Sydney Region, with QLD soon to join the ranks.
LIFE'S GREAT WITH REPOSIT NO BILL™
What our customers are saying

Rob and Jen couldn't be any happier with their decision to purchase Reposit No Bill™. They are guaranteed to have no electricity bill for five years.
ELIGIBILITY CHECK
Is your home eligible for Reposit No Bill™?
Discover if you're eligible for Reposit No Bill™ by taking this quick quiz. Our team will send you an instant quote if you are eligible.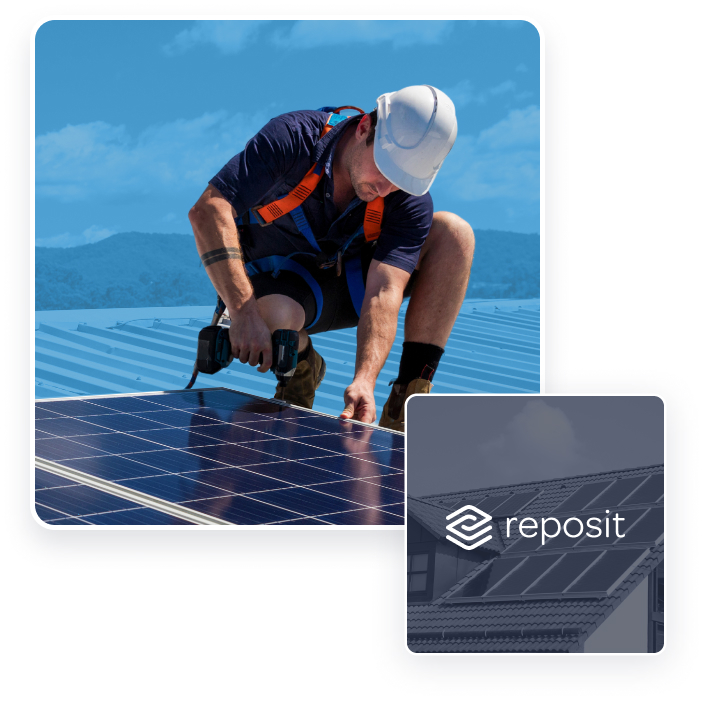 AS FEATURED BY




THIS OFFER IS FOR YOU
Just imagine if...
You could stop worrying about your next electricity bill.
You were completely free to use power when needed to keep your home cool in summer and warm in winter.

You felt confident that the solar battery systems installed at your home are well designed, reliable and is being taken care of by experts.
You knew that the rapid changes affecting the electricity system would not impact you financially for at least five years.

HOW DO I GET REPOSIT NO BILL™?
As Simple as 1, 2, 3... Gone!

Never thinking about electricity again couldn't be easier. Our team does the hard work and we keep you informed from quote to installation.
Find Out If You're Eligible
Give us 30 seconds of your time and some of your details and we will email you an instant quote. Our friendly sales team will be in touch to book a site inspection.
Book your Site Inspection
Our licensed electricians visit your home for a site inspection. With your system design and quote in hand, simply pay the 10% deposit and we will arrange an installation date with you.
Book Your Installation Day
Enjoy being comfortable knowing our team of professionals are installing your system. As soon as the install is done we will transfer your bill to Reposit.
Live Comfortably

Stay warm in winter, cool in summer, turn on your clothes dryer and boil your kettle at anytime of the day, knowing Reposit has your bill covered.
WHO ARE WE
We are energy visionaries
Since 2012, we have been building our technology, right here in Australia.
Our team and our technology work hand in hand to make using electricity in Australian homes simple and free.
Reposit brings together electricity technology, expertise and experience to deliver products that improve our customer's lives and the world they live in.
SMART, SIMPLE AND HASSLE FREE
Why Choose Reposit?

Serving Smarts Since 2012

In 2012, we predicted an energy future full of uncertainty, complexity, rising costs and a shift to renewables for a sustainable planet. We built technology for that future and over the years we've learned how to make things simple for our customers.


72 million Control Hours
With thousands of customers and millions of battery control hours we know a thing or two about managing your household energy. So much so we put our money where our mouth is and guarantee no electricity bills for 5 years.

20,000 kW Installed

That's enough battery power to simultaneously brown over 16,000 slices of toast. Each of the batteries we control is important to Australia's clean energy future and so is important to us.



Australian everything
Born and bred in Australia we understand the Australian electricity market and the hassles that go with it. All of our staff are in Australia, our controller is manufactured in Australia, and our software is exclusively built right here in Australia.

THE REPOSIT BLOG
News & Updates

Get the latest product updates, energy saving tips and solar
industry news straight from our blog.