Reposit GridCredits: SA households act as Virtual Power Plant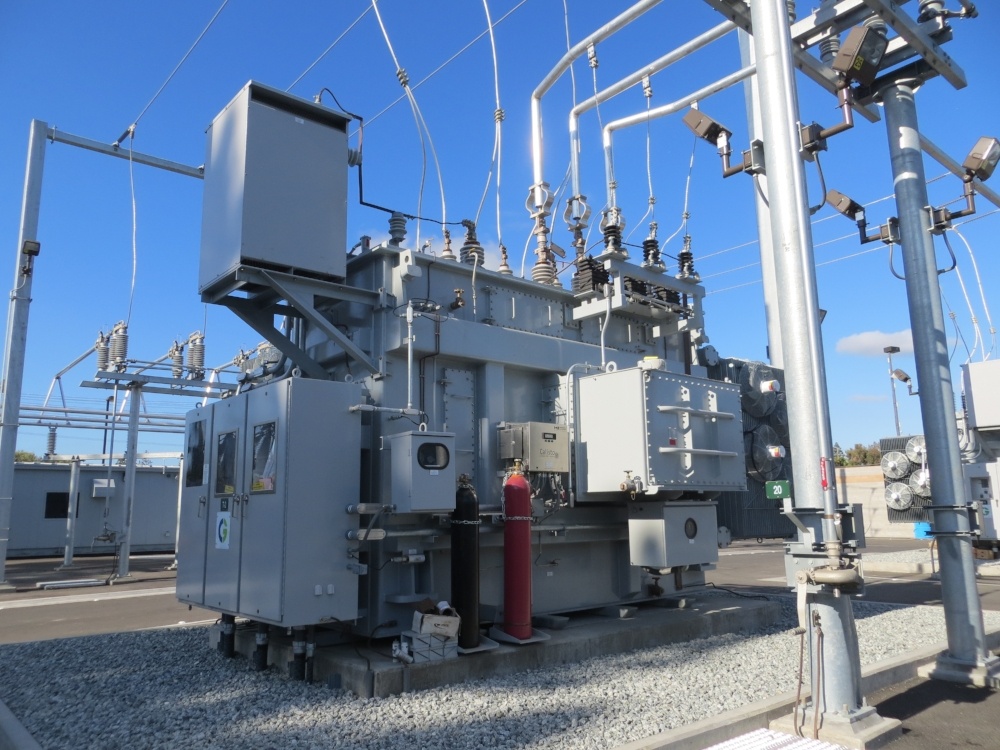 Last week was hot - we saw temperatures in the high 30s for Victoria and mid 40s in South Australia. To beat the heat many of us were cranking our air conditioners to try and find some relief. But unlike most of us who paid the price for beating the heat, Reposit customers made a bit of money by acting as a Virtual Power Plant on one of the hottest days this summer.
How Reposit's Virtual Power Plant saved the day!
Because of the hot weather, Australians were using more electricity than normal and it caused strain on our electricity grid. Then at approximately 4:30pm on Thursday 18 January Loy Yang B power station in Victoria went offline.
Our electricity system must always be balanced - supply and demand need to be matched at all times or our electricity network is disrupted which can cause mass blackouts. When the Loy Yang B power station went offline this caused three things to happen:
The National Electricity Market spot price soared reaching $12931.04 in Victoria and $14166.5 in South Australia because not enough electricity was being produced to cover demand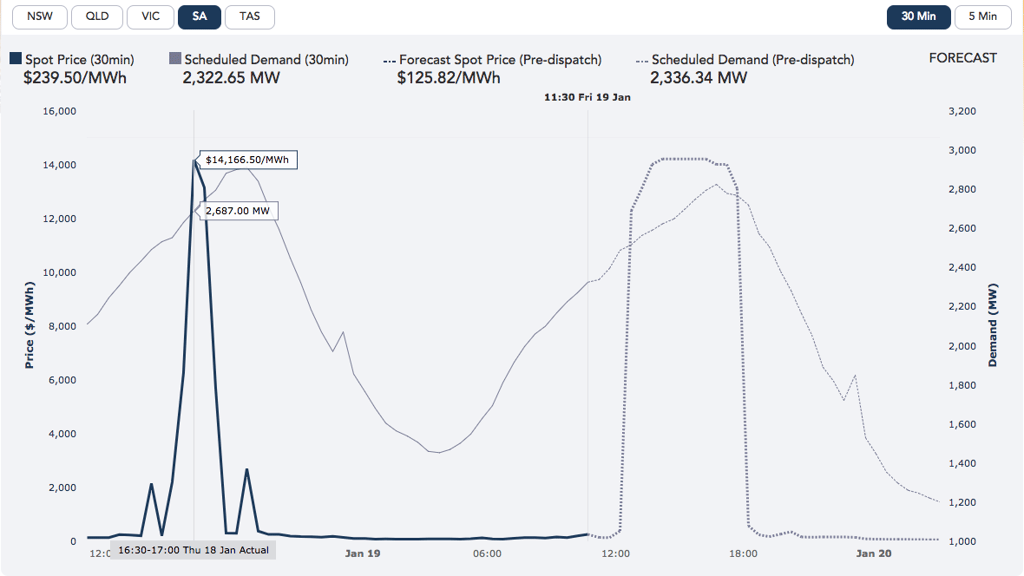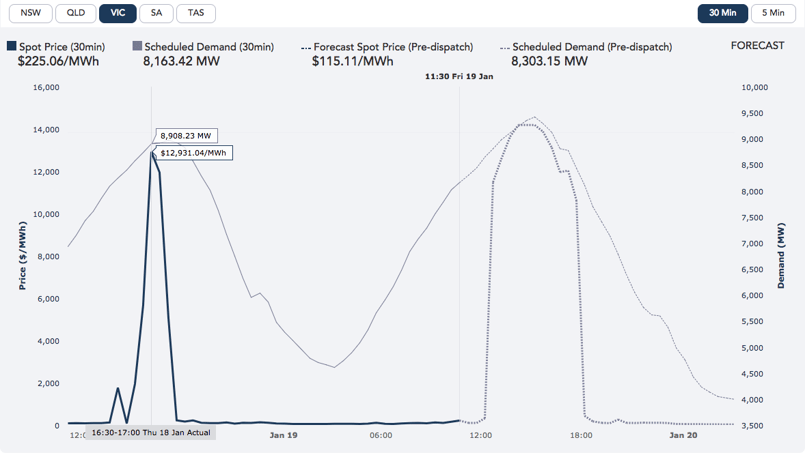 Frequency dropped to 49.7 well below Australian Energy Market Operator(AEMO) safe standards. When frequency drops everything slows down and this can cause damage and blackouts to our electricity grid - like we saw in SA in 2016

At 5:35pm Victoria had only 383MW of reserve capacity when their demand was 8900MW. AEMO declared that Victoria was in

Lack of Reserve 2

. Lack of Reserve 2 is when AEMO considers the occurrence of a critical single credible contingency event is likely to require involuntary load shedding
When this happened, Reposit customers in Victoria and South Australia stepped in to prop up the electricity grid by selling all the stored energy in their solar batteries. See how Reposit homeowners with GridCredits retail plans in Salisbury responded.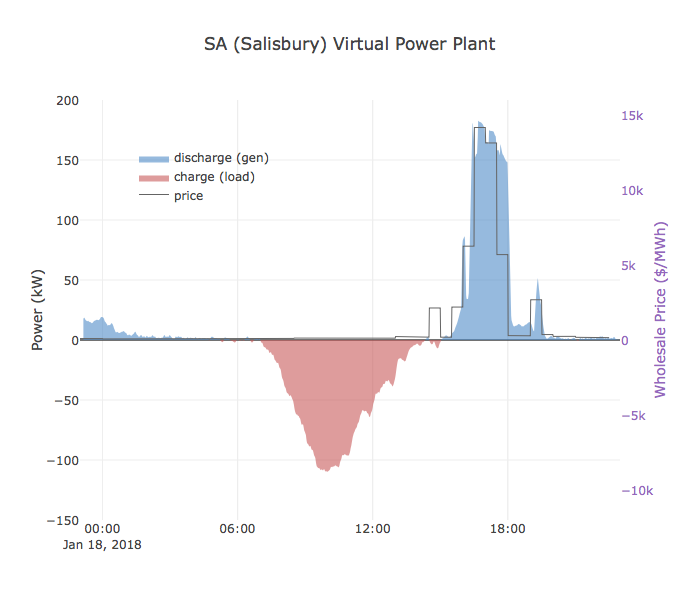 The GridCredits event lasted more than two hours and customers earned GridCredits between $5 and $37 depending on the size of their battery.
This isn't the first time that a power station in Victoria has gone offline this summer. According to the Australia Institute it has happened 12 times.
It happened again....
Believe it or not another GridCredits event was triggered on Friday 19 January for SA and VIC homeowners. See how Reposit homeowners with GridCredits retail plans in Salisbury responded.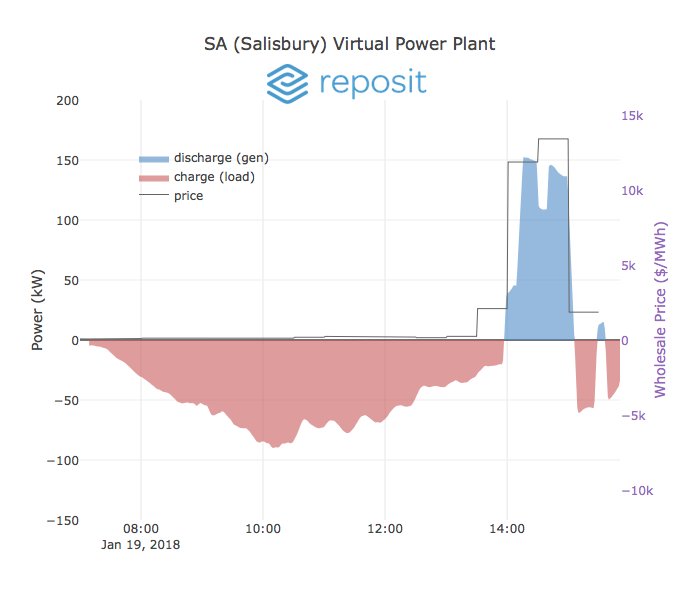 Over the two days Reposit homeowners earned between $5 and $50 for supporting the electricity grid depending on their battery capacity and GridCredits retail plan. Some customers received the National Electricity Market spot price for selling their stored energy.
Most Reposit customers earning GridCredits are with electricity retailers that pay $1/kWh when a GridCredits event is triggered. We're always working with electricity retailers to offer better plans.
Reposit is just the tool that allows homeowners to interact with the electricity market. We've developed software that allows you as a homeowner to sell your stored energy to electricity retailers at better prices, but retailers still choose what they pay.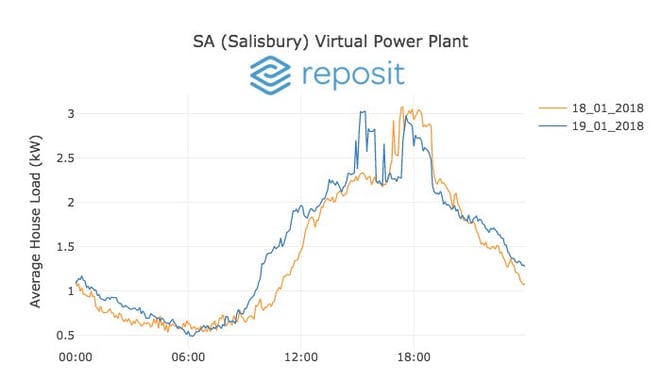 Just like the Tesla Big Battery in SA Reposit customers responded to support the grid at times of peak demand, but unlike the Big Battery customers earned GridCredits and money by participating.
Reposit customers on GridCredits retail plans sell the stored energy in their solar battery for an extraordinary price when electricity companies struggle to meet grid demands, or when wholesale electricity prices spike, which is what happened.
GridCredits are a world first energy storage trading system that are earned when energy is sold back to the National Electricity Market or network utilities.
When Reposit customers sell their electricity they help to stabilise our electricity grid and can help prevent blackouts.
Get involved
With electricity prices rising substantially, it's expected to be a challenging summer ahead for the electricity grid, meaning there's a greater need for alternative sources of energy. For Reposit customers, that translates to being rewarded with exceptionally higher incentives than current solar feed-in-tariffs for any energy they're able to contribute.
To meet the demand of the population's growing energy requirements, especially throughout summer, Reposit customers can choose to chip in their spare stored solar energy in return for $1.00 of GridCredits® for each kWh released back to the grid (on selected retail plans).
Not only do our customers benefit from earning GridCredits® towards their electricity bills, but they also get to enjoy a Reposit-optimised solar battery which continues to deliver the lowest power bills all year round through state-of-the-art, smart technology.
Any household that has a solar energy setup that includes a Reposit-compatible solar battery can get involved. Once a household is connected with a Reposit product, the next step is getting signed up to receive GridCredits®.