Share and save your energy as part of a virtual power plant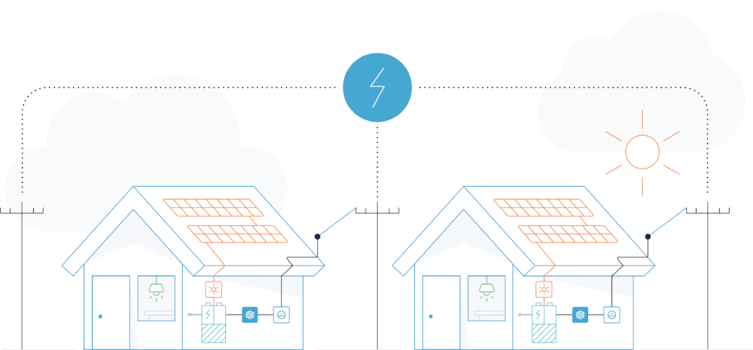 'Virtual power plant' (or 'VPP') and 'community big battery' are terms you've probably heard floating around in the media lately. We break down what these exciting concepts are -and why you should get involved!
What is a Virtual Power Plant?
With the rapid adoption of solar photovoltaic (PV) systems in everyday households and the rise of solar battery storage, the power and benefit of community-produced solar energy is quickly being realised by the electricity industry.
A VPP is an interconnected network of houses that can share energy to the grid when needed, which can be particularly helpful at peak times such as in extreme hot weather.
Acting as a virtual power station, like that of the South Australian big battery, the idea of a 'community big battery' is one that – you guessed it – the community can be involved in.

Why you should get involved
With our electricity prices on an unpredictable rollercoaster and a challenging summer ahead for the electricity grid, there's a greater need for alternative sources of energy.
For Reposit customers, that translates to being rewarded with exceptionally higher incentives than current solar feed-in-tariffs for any energy they're able to contribute.
To meet the demand of the population's growing energy requirements, especially throughout summer, Reposit customers can choose to chip in their spare stored solar energy in return for $1.00 of GridCredits® for each kWh released back to the grid (on selected retail plans).
Not only do our customers benefit from earning GridCredits® towards their electricity bills, but they also get to enjoy a Reposit-optimised solar battery which continues to deliver the lowest power bills all year round through state-of-the-art, smart technology.
How you can participate
Any household that has a solar energy setup that includes a Reposit-compatible solar battery can get involved with this big battery concept. Once a household is connected with a Reposit product, the next step is getting signed up to receive GridCredits®.
Building a virtual big battery is a key focus for us here at Reposit Power. We're excited by the prospect of everyday Australians being active participants in the solution to Australia's energy crisis. If you'd like to participate in this revolutionary concept, we'd love to hear from you.
Get in touch with one of our awesome consultants today.