Can you install an EV charger at home?
Home charging has been deemed one of the most convenient methods of charging electric vehicles, as a home charger allows an EV to be left at a charging station overnight while the owner sleeps. While most homes can support a charging station, there are some elements to consider when looking to install an EV charger at home. EV drivers need to consider charging speed, electrical safety, as well as electricity costs that may arise. Below, we outline common questions surrounding EV chargers and home use.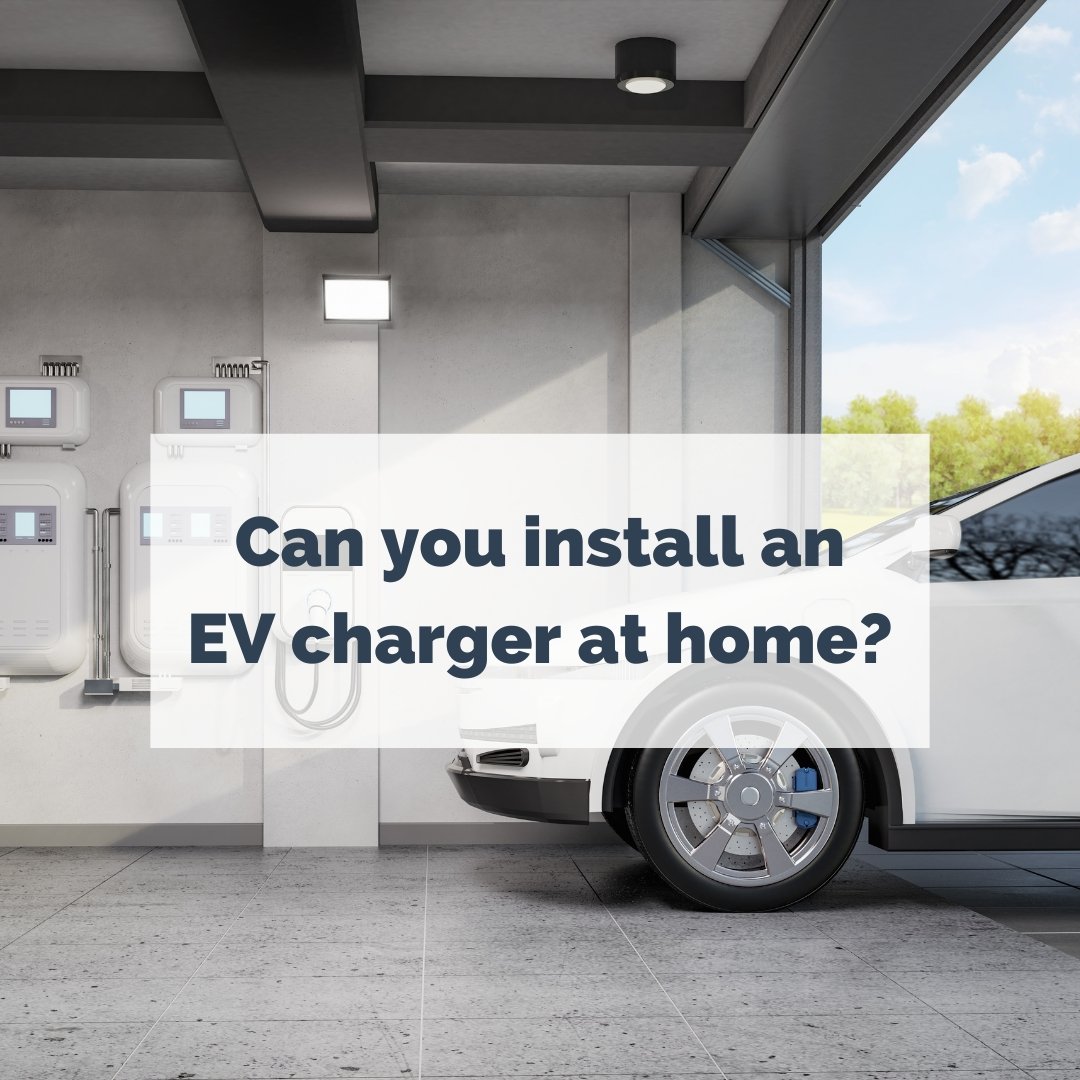 Want to charge your EV at home with guaranteed $0 power bills?
Talk to our team about your options for getting a solar-powered EV charger installed at home.
How does your living situation impact EV charger installation?
Depending on your home situation, an EV charger may not be suitable for every property. Mainly, there needs to be a suitable location to place an EV charger. This location needs to be near an accessible outlet that can support the demands of EV charging. EV drivers with off-site parking, or with shared or communal garages, may not have the permits or licenses needed to alter the property for installation. An EV charger is considered a permanent fixture, so you must ensure you have the correct permissions.

Commonly, this means an EV driver would need to be a homeowner to install electrical upgrades such as basic chargers. While EV owners who rent may be able to get the correct permissions, it is important to then weigh out the costs. An EV charger can be expensive to install, and is not easily portable.
Where should you install an EV charger at home?
Generally, the preferred charger location is the most conveniently based parking spot at your residence. With charging cables typically being 5m in length, it is equally as important to factor this into the charging port location. You need to make sure you do not place your home charging outlet too far from where your electric vehicle is parked, keeping in mind the side of the electric car that the charging port is on. If you are faced with a situation where you need a longer charging cable, there are options for 7m or 10m, however these will need to be decided beforehand. It is also important to remember that a home charging station will need to be mounted onto a solid structure, and will need to be on the closest wall next to your preferred parking location.
All homes are different and offer variable capacities. Your household's electrical infrastructure should be inspected by a qualified technician before proceeding with any installations. Both single phase and three phase homes are capable of supporting home charging.
Single Phase is the most common EV charger, and is typically found in residential households.

Three Phase is more common for commercial properties, however it can be found in larger homes.
If you're unsure about your home, a further assessment by a qualified electrician can be done on site to assess your electrical infrastructure and determine if it is up to current standard.
Should you get a solar system for EV charging?
While charging your electrical vehicle at home is generally considered more convenient, it can result in higher charges depending on the household. Electrical bills will naturally go up for households that are using their own wall charger or port for EV ownership. Solar power is not required to run an EV charger at home, however it can help offset the costs of supporting the significant demand of power. Solar charging offers a significant reduction of electricity cost per hour. For those who are looking at solar power, it is advised to also look at solar batteries, which can ensure greater security when trying to get the most out of solar electricity.
What is a wall charger vs a portable charger?
The difference between a home charger, and a portable charger is mobility. Both have their unique place for EV drivers, where a home charger offers the advantage of charging up to three times faster than you could with a portable one. However, a portable one does not require the same space or installation setup, making it more convenient to get started with. Many EV owners will travel with a portable charging station in case of emergencies or inadequate public charging bays. But when at home, or near a commercial charger, will leverage these faster and more efficient options.
What type of electric vehicle charger is suitable for home charging?
EV chargers are grouped by level, which ascend based on power output. There are four tiers for these levels to fall into, and depending on the EV charger, price and the complexity of the installation varies according to these tiers. Level 1 and Level 2 are suitable for home charging, and can be implemented to serve as an electric car charger in common residential areas. In contrast, Level 3 and 4 are generally only seen in public or commercial charging stations. The levels of EV charging can be seen as follows:
Charging from a wall charger: Level 1 (single-phase alternating current)

Charging from a home wall box: Level 2 (single-phase and three-phase)

Charging from a public EV charger: Level 3 (fast direct current), Level 4 (super-fast)
It is important to remember that home EV charging requires less demand than public EV charging, so this difference does not reflect on the efficiency of a home charger. Public charging stations are required to keep up with greater demand, multiple vehicles, and have the benefit of being connected to commercial outlets.
How to install an EV charger at home
Home chargers should always be installed by a qualified electrician. There are government regulations surrounding all electrical installations that could impact the health and safety of residents. Moreover, to ensure the reliability of electrical equipment, any home installations should be tested by a qualified electrician in accordance with AS/NZS3000:2018. Make sure the installer provides you with a certificate of electrical safety. Additionally, you should consider the warranty and after-sale support provided by the company you choose to work with. Make sure all credentials are in line with Australian and state regulations, and that all licenses are up to date.