Reposit Review: Our consumption is now 99% from our panels
The Weedens had a Reposit Powered solar battery setup installed in 2016, but noticed they were selling as much electricity back to the grid, as they were using. Wanting to be less reliant on the electricity grid and more self sufficient using the electricity generated from their solar panels, the Weedens once again approached Reposit.
With Reposit's help the Weedens no longer rely on the electricity grid and are now in control of their home energy and power bills. Find out how
Reposit Review: Our energy consumption is now 99% from our solar panels!
Despite only the two of them living in their four-bedroom house, the Weedens are never lonely with a constant stream of visitors especially from their adventurous grandchildren. They both love a spot of gardening in their beautiful Canberra home.
The Weedens first installed a smart Reposit solar and battery setup in 2016. After the installation Jan and David were exposed to a whole new world they never knew existed.
Using Reposit, Jan and David became more aware of their energy habits and usage. They found they were sending as much energy back to the grid, as they were using and this was counterproductive.
The Weedens decided that they wanted to use as much energy from their solar panels as possible and rely less on the electricity grid to have more control over their power bills. The Weedens approached Reposit to find out if there was a way they could be more self-sufficient.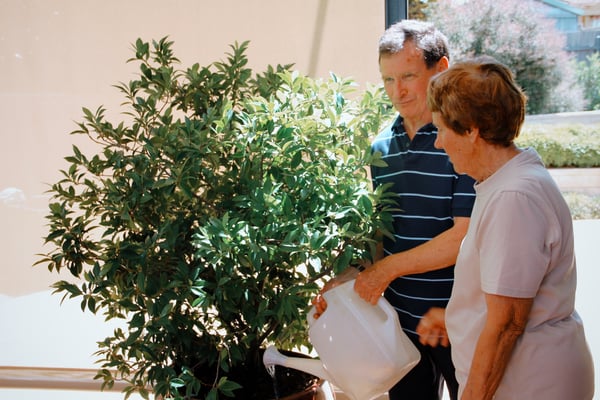 How the Weedens became more self-sufficient
With Reposit's advice, instead of sending their excess energy back to the electricity grid, Jan and David decided to get another battery to store the energy and use it themselves.
But, the Weedens faced a dilemma. Their original battery was no longer available to purchase and generally, different solar and battery setups can't communicate with each other. But with Reposit's smart technology, Jan and David didn't have to replace their solar battery setup, they were able to buy a different battery brand and inverter and add it to their exisiting system. Reposit made sure that the two systems communicated with each other.
"Well worthwhile the cost of the batteries and getting someone else to do all the thinking, to tell them (the batteries) how to talk to each other..."
After installing the second battery and upgrading their Reposit setup, the Weedens reduced their reliance on the electricity grid and are now fully self sufficient using the energy generated from their solar panels.
"Our consumption was almost double of what we were using from our panels, since installing a second battery our consumption is 99 per cent from our panels and batteries not from the grid...helped by Reposit."
Reposit was the brains between the two batteries - allowing seamless synchronisation of the Weeden's complete solar and batteries set up. Reposit solved Jan and Davids difficult problem of getting two different solar batteries to communicate to each other.
With Reposit's advice Jan and David also changed to a time-of-use (TOU) plan which meant if they needed power from the grid they were only paying the cheapest possible price for it, during off peak periods, thanks to their Reposit box.
"We haven't had to change what we do, it's been changed for us by having that second battery... Reposit does it for us… it's a fantastic adjunct to anyone with a solar battery. It's brilliant."
Reposit helped the Weedens to be less reliant on the electricity grid and in control of their power bills.